What's At Stake In 2020?
Leading up to Election Day, KUT asked Central Texas voters what's motivating them to head to the polls.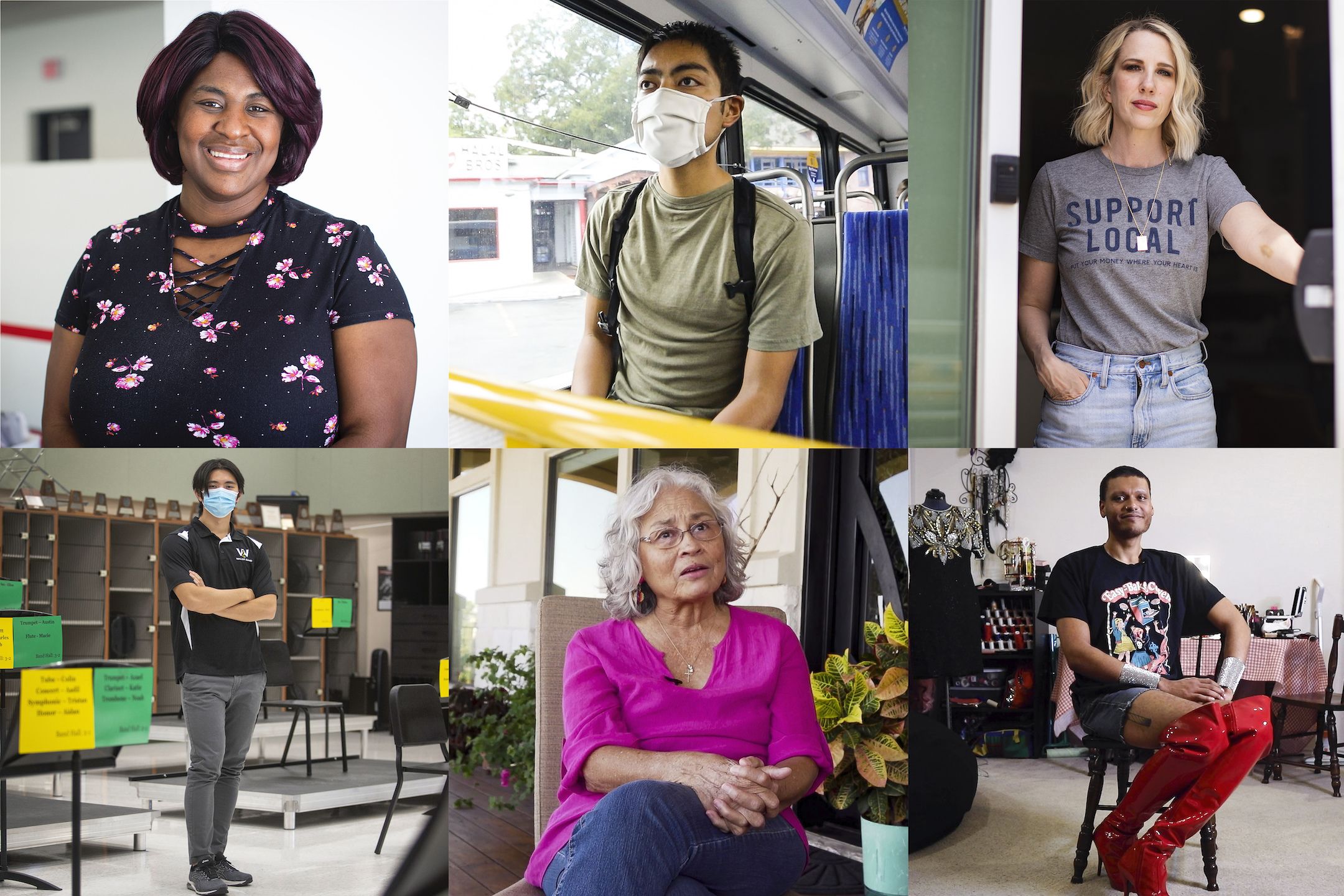 Chelle Neff Worries About Keeping Her Business Afloat During The Pandemic
By Michael Minasi
For Chelle Neff, owner of Urban Betty Salon in Austin, the coronavirus pandemic is the scariest experience her business has faced in its 16 years of operation.
At the beginning of the pandemic, the salon took big hits, forcing her to rely on savings for months.
"I saw about six years' worth of business savings get completely eaten up in two months," Neff said. "That was heartbreaking to me."
She says her business is about more than finances. She feels an obligation to her 60 employees who rely on their paychecks to stay afloat. Despite health risks, she does not see closing the salon as an option.
"We don't have that luxury," she said.
Neff said she sees the power of voting in shaping the way her employees will survive the coming years. She wants leadership that prioritizes taking care of people and maintaining the Affordable Care Act, which some of her employees utilize.
Neff will close both of her locations on Election Day to allow her employees the opportunity to vote in person.
"From now going forward," she said, "every Election Day will be a holiday at Urban Betty."
---
Educator Laura Alcorta Fears Progress Toward Women's Rights Will Be Lost
By Julia Reihs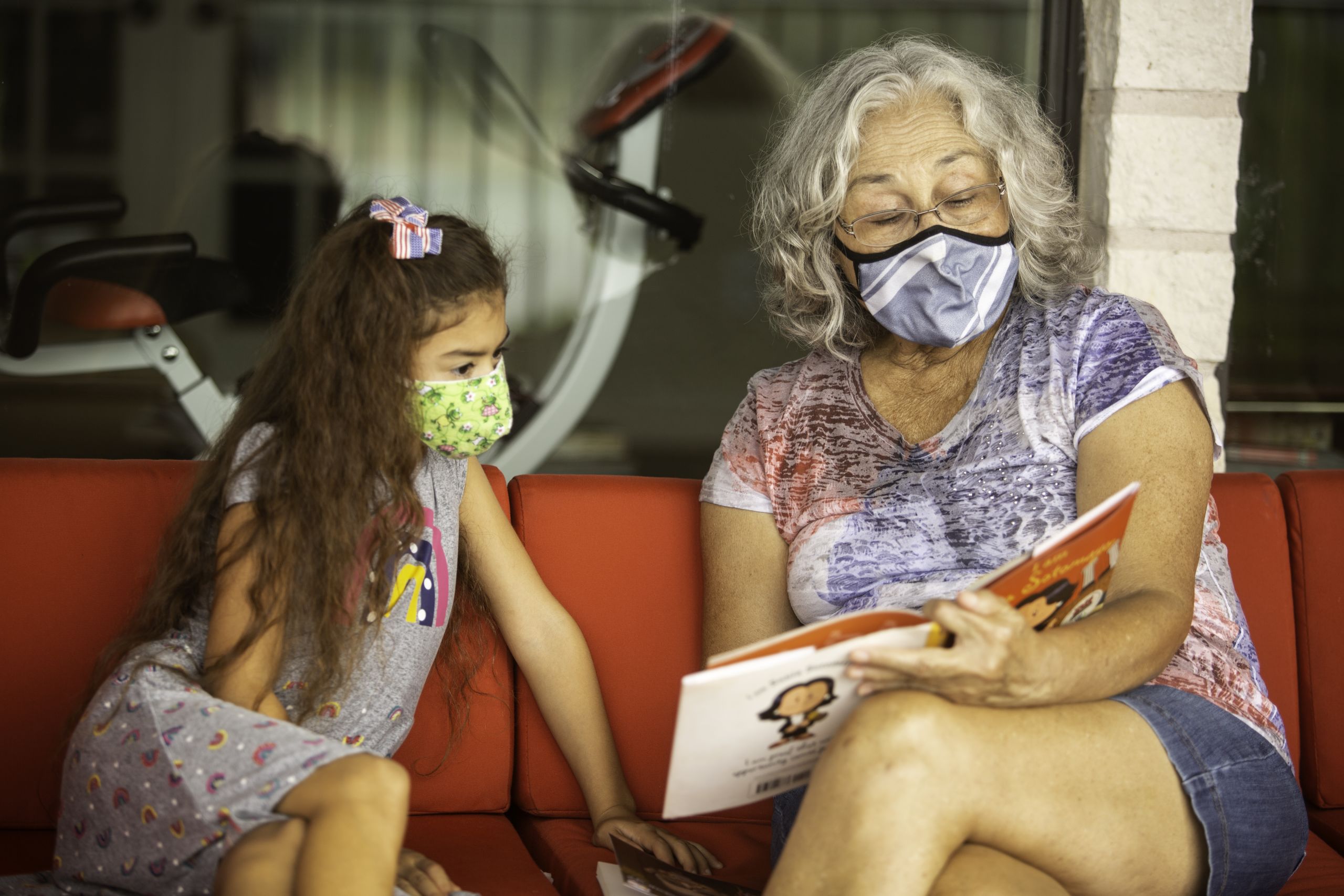 Throughout her lifetime, Laura Alcorta, a retired educator, has witnessed a shift toward gender equality in the United States. She's seen women make strides in the workplace and abortion rights gain more protections. Now, in the 2020 election season, she's worried some of this progress will be erased.
"By voting, women need to understand that that's paying a tribute to the women before us and the sacrifices they made," Alcorta said. "It's our opportunity to step up."
At a Tuesday morning women's group, Alcorta and her friends sit on her neighbor's porch in Lago Vista wearing face shields and face masks, some with the words "voting matters" across the front.
"I brought my copy of the Constitution," says one of the women, waving a pocket copy in the air. The women laugh and dive into a discussion about the Equal Rights Amendment and U.S. Supreme Court nominee Amy Coney Barrett.
Alcorta values these weekly meetings. She has always been politically active, and says she feels a duty as a senior citizen to find ways to encourage people to vote and be informed.
"I don't want women to be complacent because I think that has been our role for a long time," she said.
Alcorta grew up in Laredo in a family of seven girls. She remembers that her parents were forward-thinking among their community at the time, supporting their daughters' pursuits of higher education. But there were still limitations. 
"I really liked math, and I told my dad that I wanted to be like him," Alcorta said. "I wanted to go and study and become an accountant. And he looked at me. He said, 'Oh, no. Accounting is not for women. You need to become a teacher.' And that was the first time I realized – wow. I had never thought of it like that. That because of my gender, I had to be separated from what I really wanted to do."
Throughout her career as an educator, Alcorta became more vocal. As the director of federal programs for a Central Texas school district, she noticed less affluent schools in the district lacked technology. When she presented a plan to close this gap to the superintendent and director of technology, she was dismissed. 
"They were all men at the time," Alcorta said. "They were taken back and said, 'Oh, I don't think that's possible. Nobody's ever done that before.'"
But she persevered.
"I got it done," she said, teary-eyed. "It was something in my soul that drove me."
In her retirement, Alcorta strives to be a role model for younger women — especially her 6-year-old granddaughter, Mia, whom she reads books about Supreme Court Justices Sonia Sotomayor and Ruth Bader Ginsberg. Alcorta said she hopes key rulings such as Roe v. Wade will not be reversed, so her granddaughter and others won't lose what other women have fought for.
She said she values putting someone in office who will preserve the strides taken toward gender equality. She has already cast her ballot by mail.
"We have to just keep going and keep pushing with our hope and our voices," she said. "This is our equalizer."
---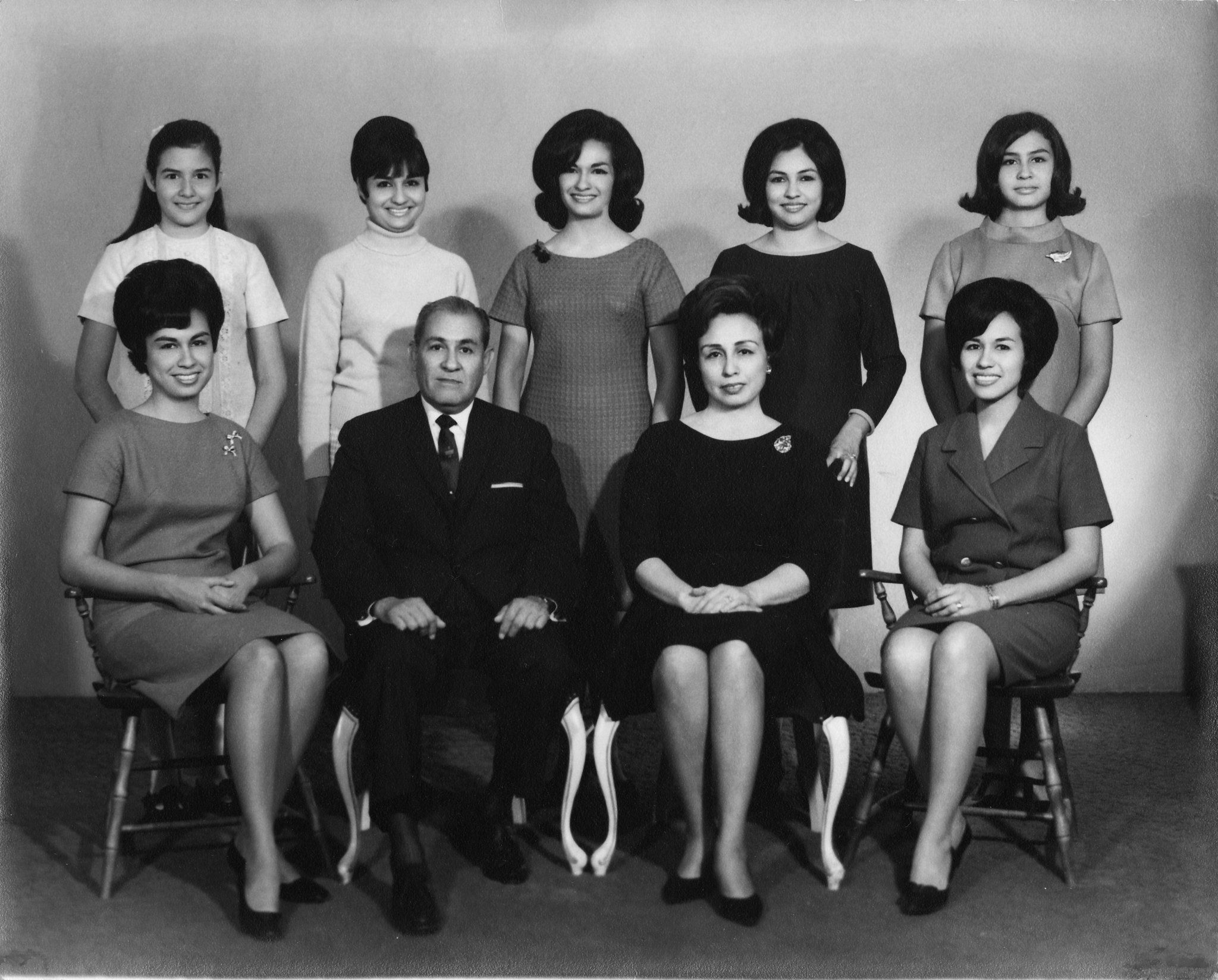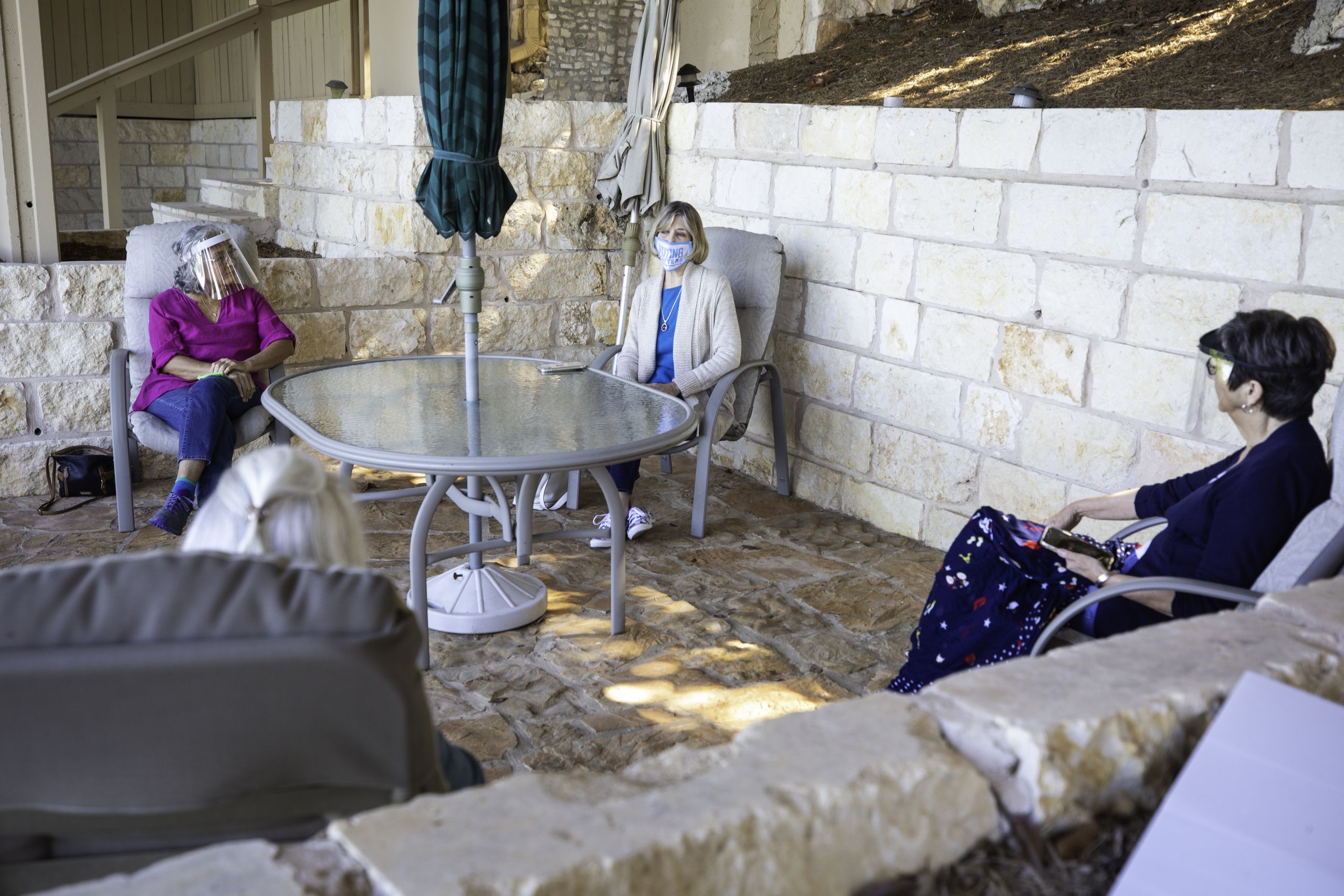 Medical Educator Jereka Thomas-Hockaday Says U.S. Is At A Health Care 'Crossroads'
By Gabriel C. Pérez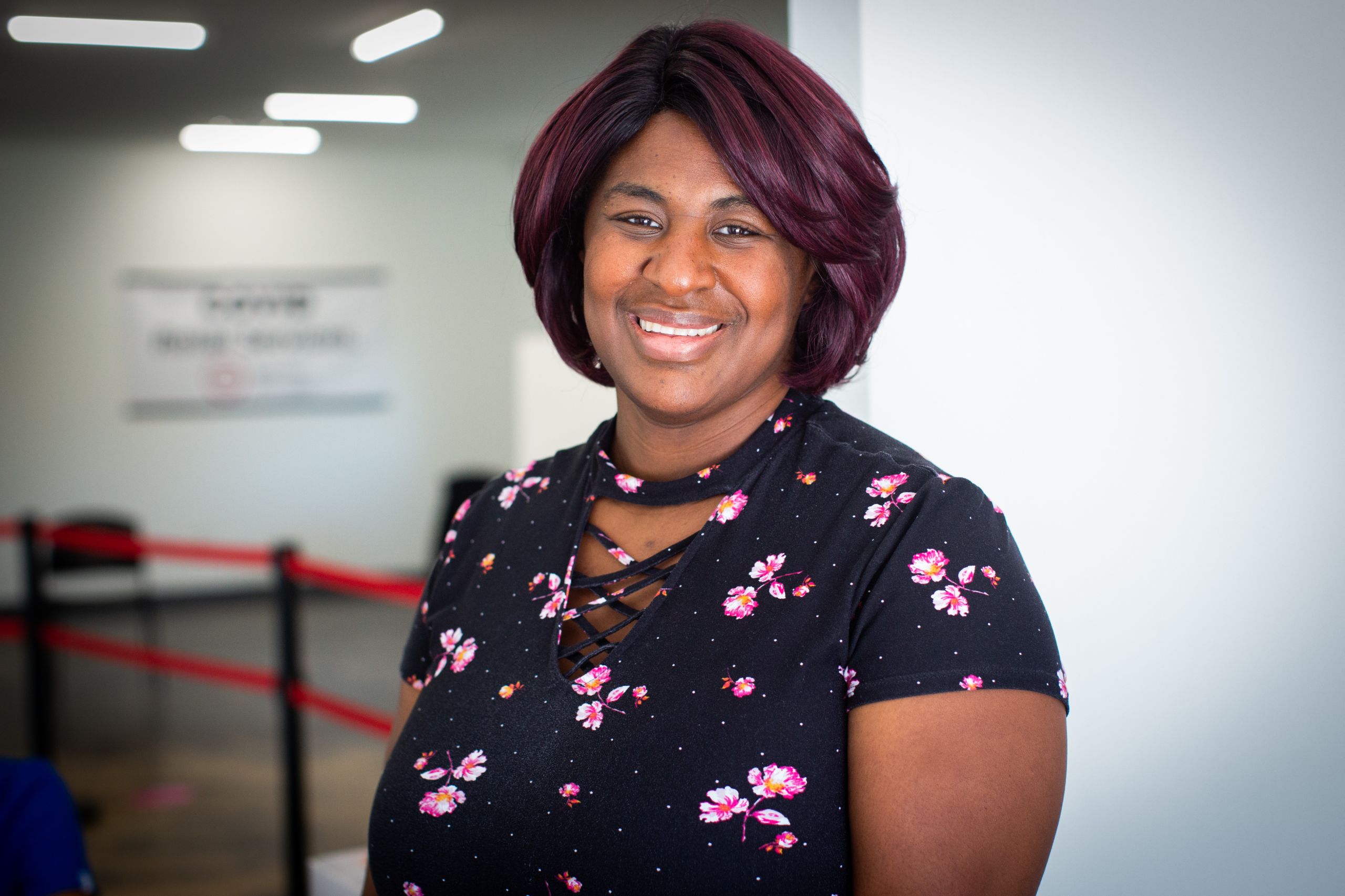 As a health care educator, practitioner and co-founder of the Central Texas Allied Health Institute, Jereka Thomas-Hockaday has had a vested interest in the public health of East Austin's underserved communities of color during the coronavirus pandemic. 
"In conversations that we've had with Austin Public Health, they've identified that there was a huge need for testing in the Eastern Crescent, which is our mostly Black and Latinx communities," Thomas-Hockaday said.
In partnership with the Austin Area Urban League, the Central Texas Allied Health Institute opened a clinic in East Austin in October to provide free COVID-19 testing as well as social services to families of those testing positive.
Thomas-Hockaday's goal with the clinic, which is staffed with students of color from the institute, was to reach Black and Hispanic communities.
"We typically understand that communities of color have a lot of trepidation and fear around medicine," she said. "So, our goal in opening this clinic … was to be able to provide services for our Black and Latinx community using Black and Latinx members of the health care community so that we could drive in more numbers and get more folks tested, and get them aware of their status."
With the November 2020 elections approaching, the opening of the clinic comes at a pivotal time, Thomas-Hockaday said.
"We are at a crossroads in our country as to how we are going to have a health care system," she said. "The citizens need to make their voices heard about what type of health care system they want. And the only way you can do that … is to get out and vote."
---
Band Instructor Stone Wang Wants Leaders Who Support Teachers' Dignity And Safety
By Julia Reihs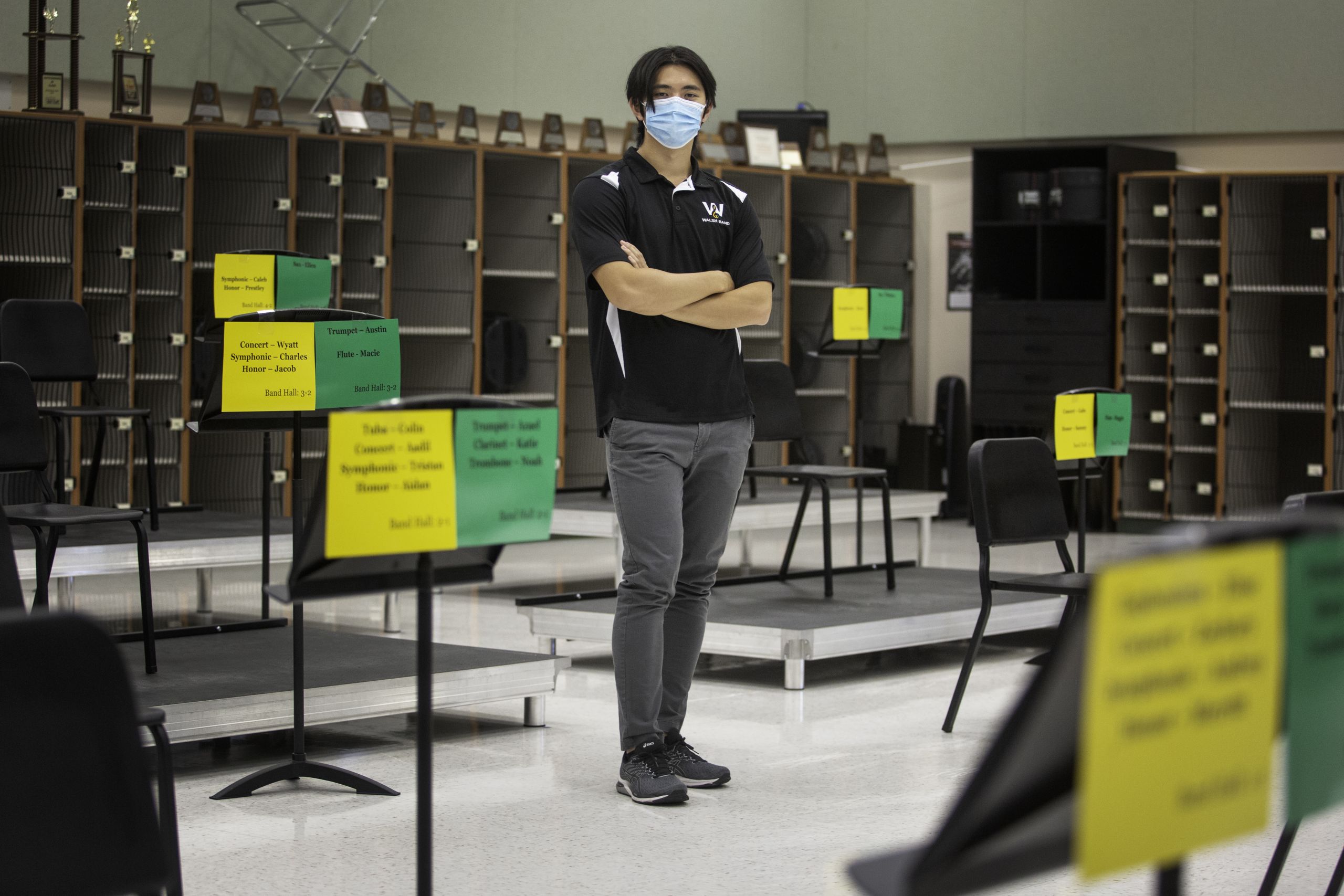 Stone Wang knew his first year as a teacher would be difficult, but he never could have predicted the added challenge of teaching during a pandemic. 
On a typical day as the assistant band director at Walsh Middle School, Wang teaches about 30% of his students in person. He alternates his gaze between the students at socially distanced desks in front of him and on a computer screen.
"Caden, Thomas, make sure your cameras are on," he says to his virtual class. His in-person students wait patiently while he asks the students on camera to position themselves so he can see them and their instruments. These students' parents have opted to keep their children at home – an option the Round Rock Independent School District gives all families during the coronavirus pandemic.
With his virtual class muted, Wang begins the day's lesson.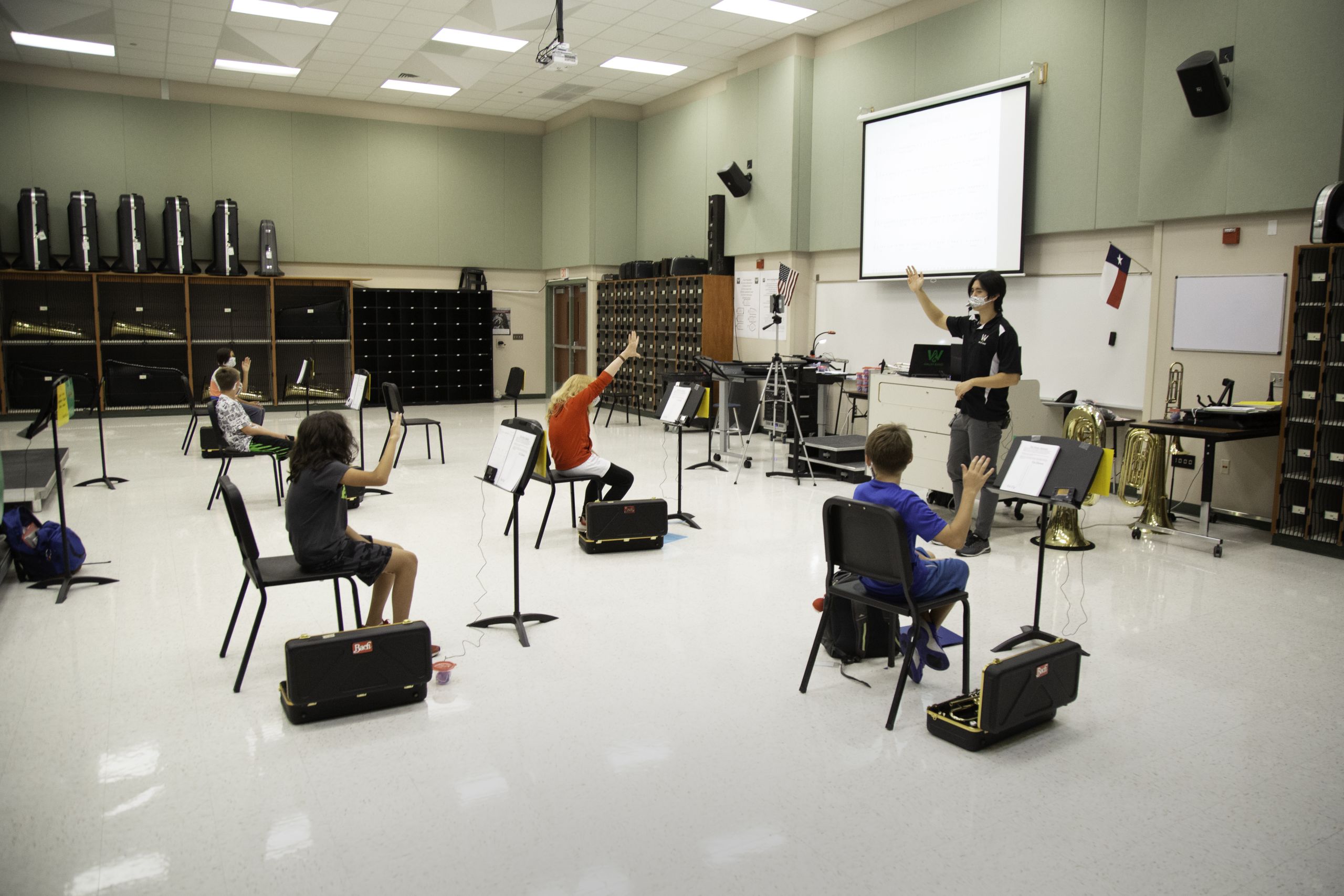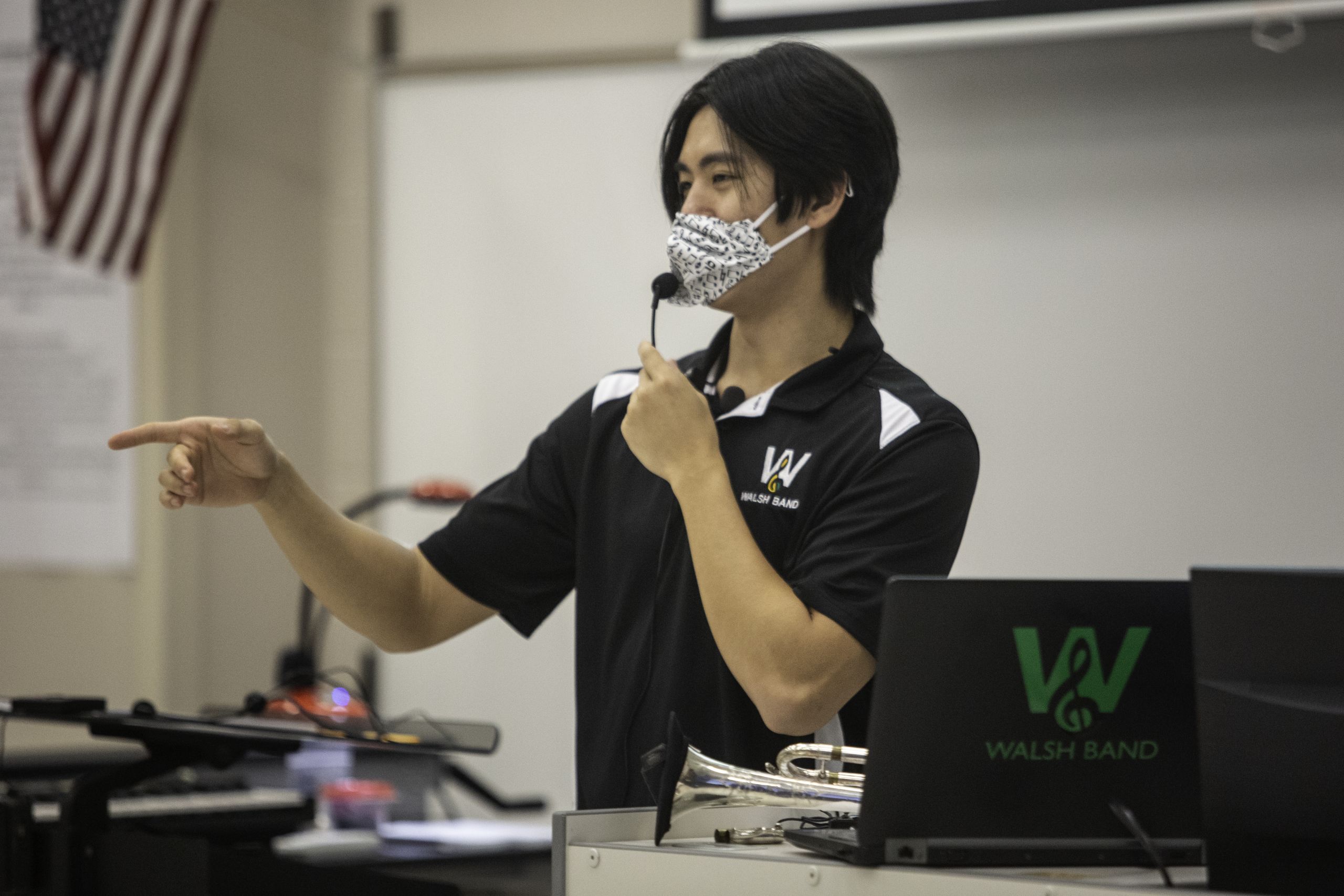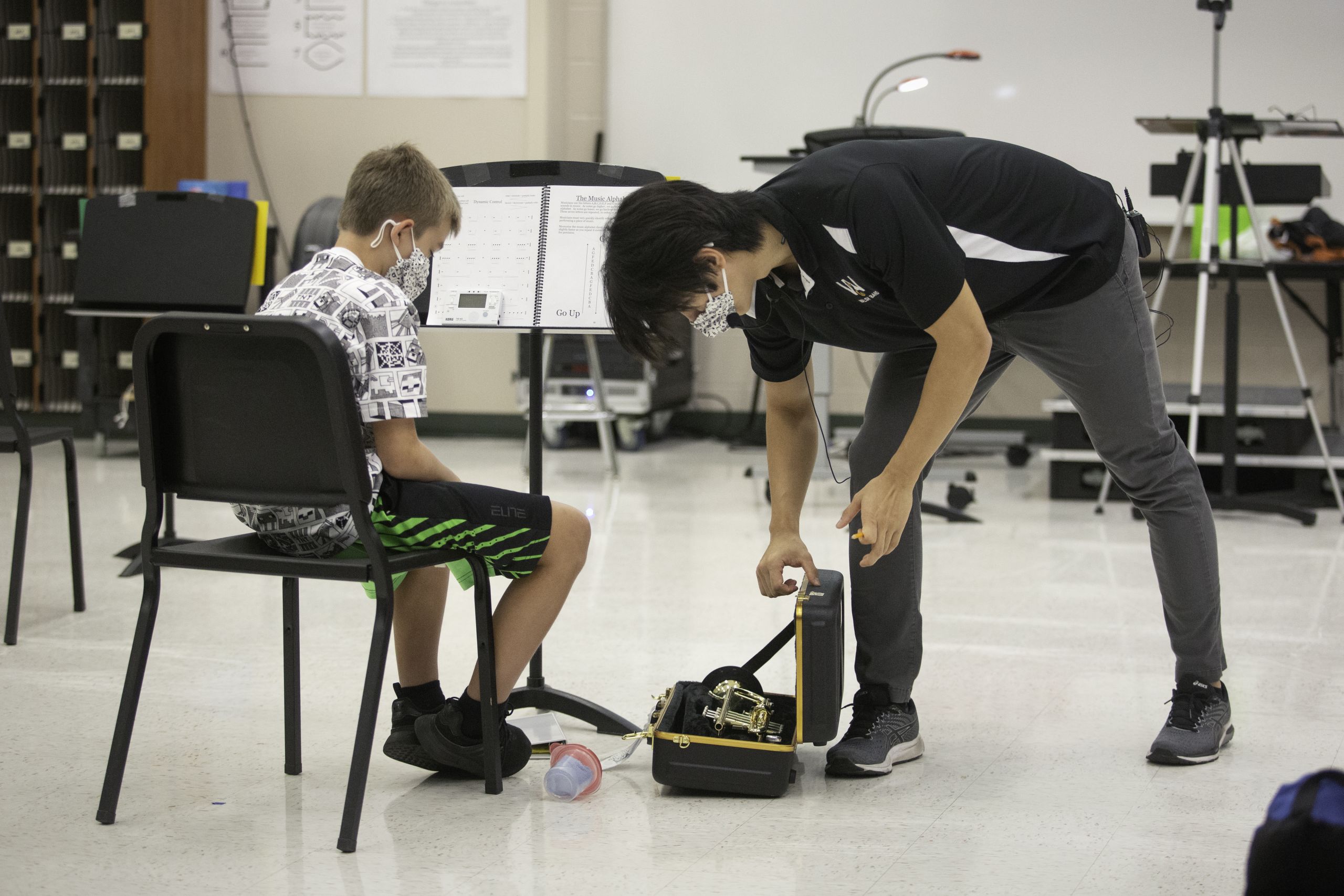 When COVID-19 began to spread in Texas in the spring, Wang's final semester of student teaching at UT Austin was cut short. He graduated as the economy worsened, looking for a job in the competitive world of Texas music education. When he secured a position at Walsh Middle School, he felt grateful and excited to teach in a rigorous band program. But as the summer wore on without consistent COVID regulations or a plan for how educators would return to teaching in the fall, he began to worry about safety.
"It's not that I'm not trying to work, because I love teaching," Wang says. "I love positively affecting kids." 
However, two months into school, he says he feels spread thin with no sign of relief on the horizon. "I feel like my life does not matter in the eyes of the people we elect to take care of us," he says. "I don't feel dignified, and I don't feel entirely safe."
For the first weeks of the school year, playing instruments in the classroom was not allowed. In-person students listened to instruction and waited until they returned home to pick up their instruments. For virtual learners, unstable internet connection and poor sound quality made online learning equally difficult.
"Several students have dropped out of band in the first six weeks," Wang says.
To give the usual feedback that band class requires, he asks students to make videos so he can provide proper assessment at home. "That takes a lot out of them," he says. "Some of these kids are close to tears because making a video is actually really stressful on an instrument that they've never held before." 
Wang also creates an online catalog of high-quality videos for his students to watch at home so he can properly convey concepts such as tone.
"I'm essentially doing double the work," he says. "I plan out my weeks and I teach, and then I go home and I make videos."  
In mid-October, band students were allowed to start playing their instruments in person. To mitigate risks, students use musician masks – masks with slits cut through them where a reed can fit – and bell covers, which are pieces of synthetic cloth that cover instruments where air is released. Still, Wang questions the safety of such protocols.
"We're constantly blowing our air through an instrument," he says. "This is a lot of breathing. And there are not enough studies to show what is actually effective. If one of my children here were to contract COVID, that would weigh so heavily on me."
This election cycle, he hopes for elected officials who will prioritize the dignity of American workers – especially educators – and recognize the strain the current education model is putting on teachers, students and their families. He and his fellow teachers do not have the energy to solve the situation themselves.
"The people that are here teaching ... we are in the trenches trying to make great experiences for kids," Wang says. "And I hope that with these elections, we can elect officials that will use their own capacity to solve these problems."
---
Grad Student Ryan Natividad Wants To See Better Transit Options For Austin Neighborhoods
By Gabriel C. Pérez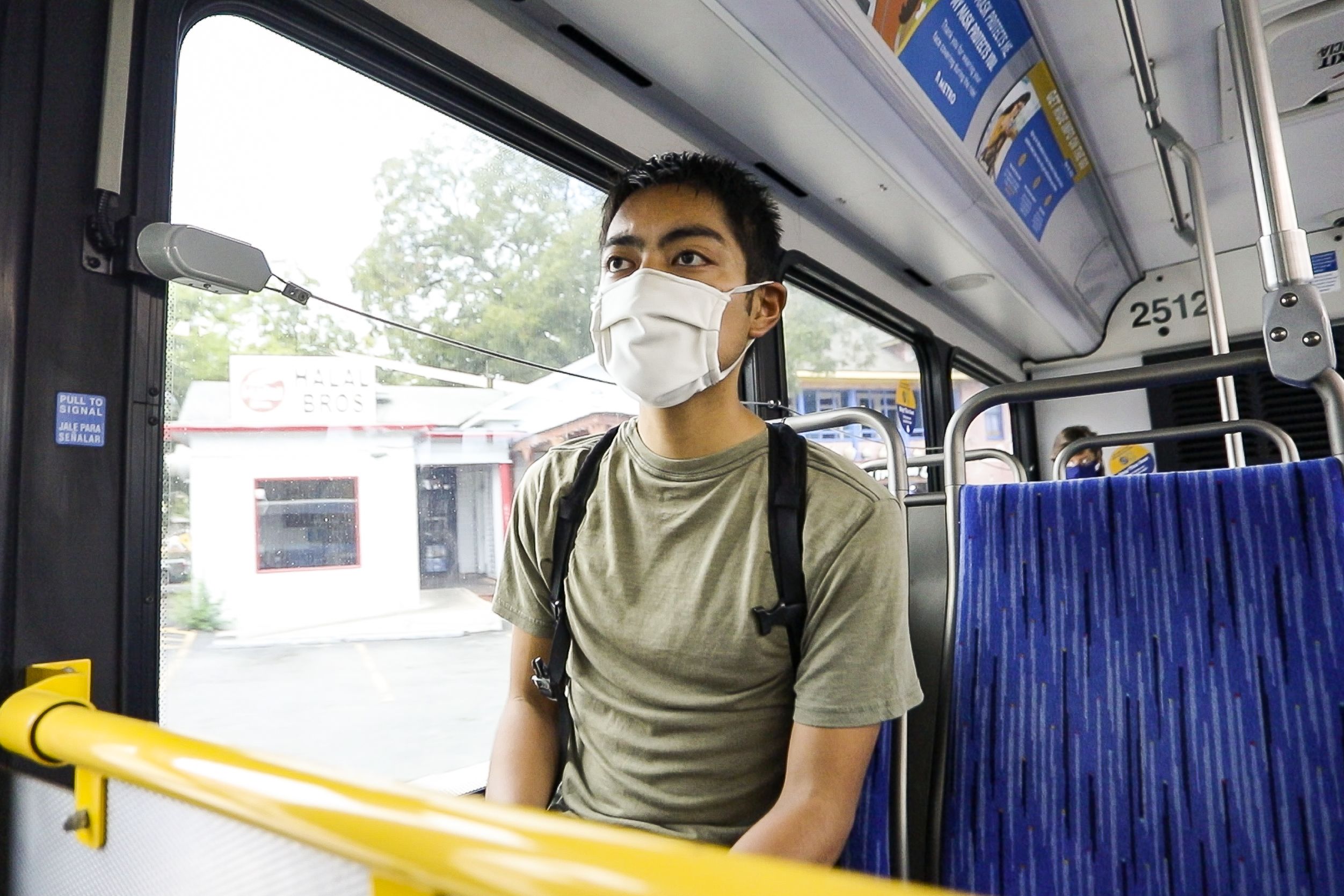 As Austin's population continues to grow, graduate student Ryan Natividad sees transportation as a key issue for the city's future.
"We're expecting reasonably close to 4 million people by the year 2040," Natividad said. "I don't want to see our public transportation system and our streets and our pedestrian and cycling facilities in the condition they are now with that many more people forced to be on our roads all the time."
Natividad said transportation affects a city's mobility on its roadways but also pedestrian safety, the choices residents make in deciding where to live and overall quality of life. 
Natividad has a background in architecture as well as urban design and community and regional planning, which he is studying at UT Austin. Originally from the San Francisco Bay Area, Natividad came to Austin without a personal vehicle, and he relies on public transit.
"When I first came to Austin … what really surprised me was the amount of traffic for a city this size," he said. "And I found it extremely difficult to find a neighborhood that would allow me to get to school and to get to work on time." 
Natividad eventually found a housing solution in the Hyde Park neighborhood north of the university where he can bus to and from campus.
With two major transportation items on the city's ballot this year, Proposition A and Proposition B, Natividad urges voters to think about the long-term effect of measures like these that impact mobility and urban growth for decades to come. 
A supporter of both propositions, Natividad hopes voters "think about the city that we want tomorrow and the quality of life, and how that has a potential to degrade if we don't make decisions today."
---
Activist Keelan Moses Wants To Make Sure Vulnerable Populations Are Heard
By Michael Minasi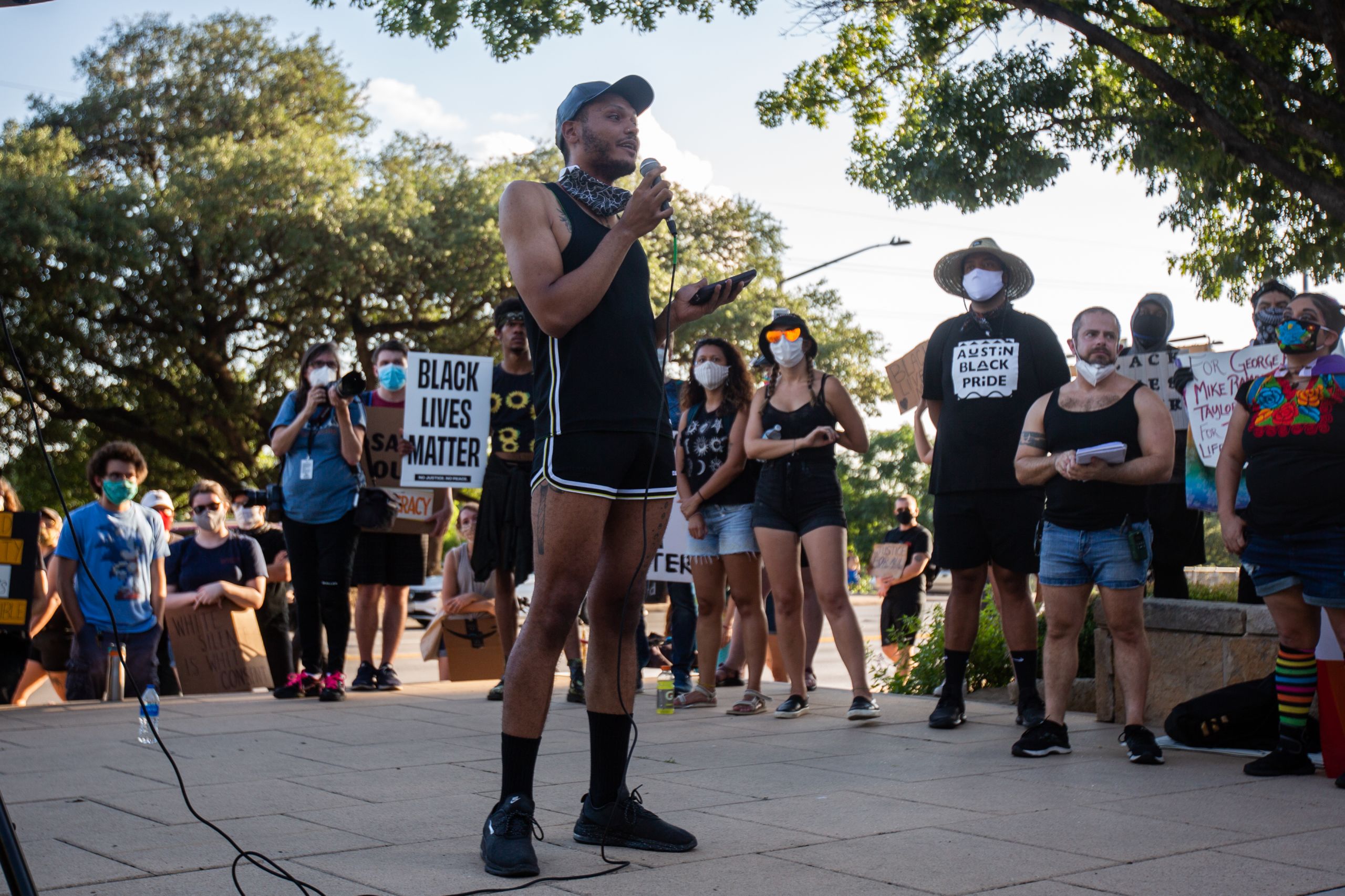 Keelan Moses, a burlesque performer and community activist, said they're focused on making sure everyone is heard in this election.
"Growing up, you're kind of told to be quiet and to keep your opinions to yourself about certain things when it comes to color or race in general," they said. "But that's really not how anyone should live when it comes down to it."
Moses grew up in Huntington, an East Texas town of just over 2,000 people. As a nonbinary person of color, Moses did not truly begin to express themself until leaving to study theater in college.
"When you're the minority – like being gay, like being trans, like being Black – people will target you. People will try and make you assimilate."
Last year, Moses joined a nonprofit called the Sisters of Perpetual Indulgence. The Sisters primarily carry out small fundraising efforts for local organizations that help the LGBTQ community and other at-risk populations.
"The Sisters of Perpetual Indulgence are very important to me because they have given me an avenue to actually be in the community and be able to help people," Moses said.
Moses became more engaged after joining the group, leading them to speak at three Black Lives Matter rallies over the summer after George Floyd's death sparked nationwide protests against police violence and racism.
In October, Moses and the rest of the local Austin chapter set up outside of Lucy in Disguise with Diamonds on South Congress to help register voters.
"Honestly the events over this past summer just taught me that there's always going to be a need, especially in America, especially in Texas, for outreach," they said. "You really can't depend on anyone to do anything for you other than yourself, and for your community other than you."
---